Downtown San Diego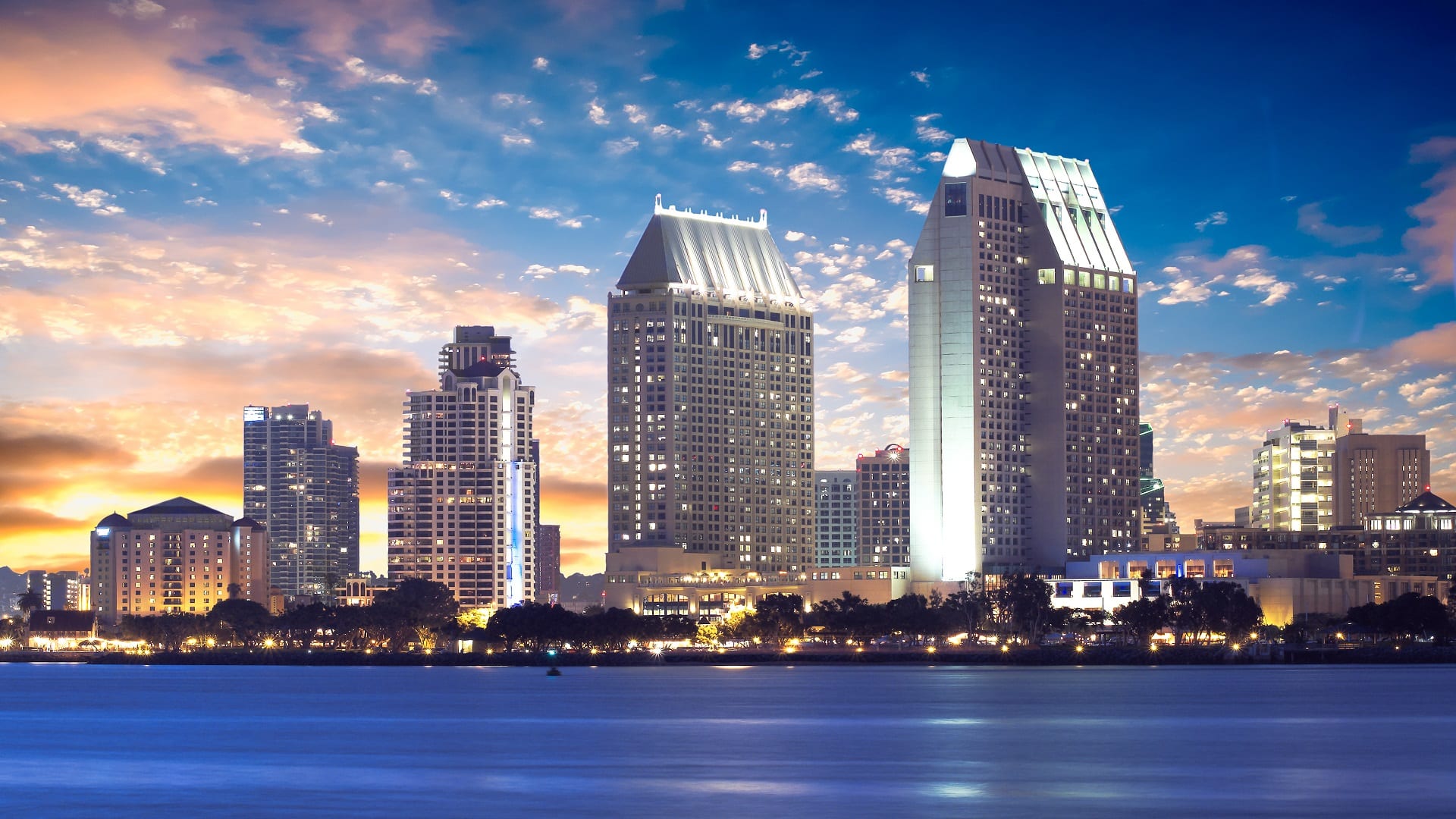 Downtown San Diego is one of Southern California's most vibrant areas to live. Each of its eight neighborhoods has a distinctive character and all are just minutes from a host of recreational and cultural activities.
The world's busiest land-border crossing (into Mexico), San Ysidro, is just 20 miles south. Boasting a Mediterranean climate, its 28,000 inhabitants enjoys a tight-knit community atmosphere with a glittering skyline and sophisticated urban elements.
Downtown San Diego architecture is an exciting and eclectic mix of ultra-modern and historic Victorian. Apartment and condominium housing units are within walking or trolley distance to lively shopping areas, commercial districts, entertainment and trendy nightclubs. In 2012, the median housing unit in Downtown San Diego sold for $369,000 with a rise in February 2013 to $414,7503. Due to San Diego Airport's proximity to downtown (2 miles), there is a 500-foot height restriction on all downtown buildings4.
The eight neighborhoods of Downtown include: The Core, the government and corporate hub and the financial center of Downtown; Columbia, a residential and commercial waterfront neighborhood; Cortez Hill, one of San Diego's oldest neighborhoods named for the historic El Cortez Hotel; East Village, near the recently completed Petco Park, home of the San Diego Padres, and the fastest growing of Downtown San Diego's neighborhoods. New residential units are side-by-side with charming artist's lofts and renovated historic structures; Gaslamp Quarter, 16.5 square blocks of historic buildings, includes restaurants, nightclubs, and galleries.
Little Italy, an urban neighborhood with bay views and affordable homes, condos and apartments. Little Italy was originally the heart of the Italian tuna fishing and canning industry. The Marina district, once only warehouses, now has high-rise and mid-rise condos and apartments in a variety of styles and is home to Seaport Village, a popular tourist venue, the Midway aircraft carrier and the San Diego Maritime Museum.
Downtown San Diego prides itself on its rich array of cultural venues including: The San Diego Opera, the Spreckels Theater, the Museum of Contemporary Art, the San Diego Maritime Museum, and the Midway Museum Ship. The nearby Balboa Park, a 1.8 square mile urban sanctuary is host to many stunning attractions, old world Spanish architecture, expansive galleries, exhibitions and let's not forget the world-famous San Diego Zoo.
Downtown San Diego, near scenic Pacific beaches and the San Diego Bay, comprised of elegant and established neighborhoods, close to a world-class zoo and museums, offering the historic and the modern. It is a sweet medley of village living, adventurous dining, high-end clubs, and international shopping, with an exciting urban vibe.