Point Loma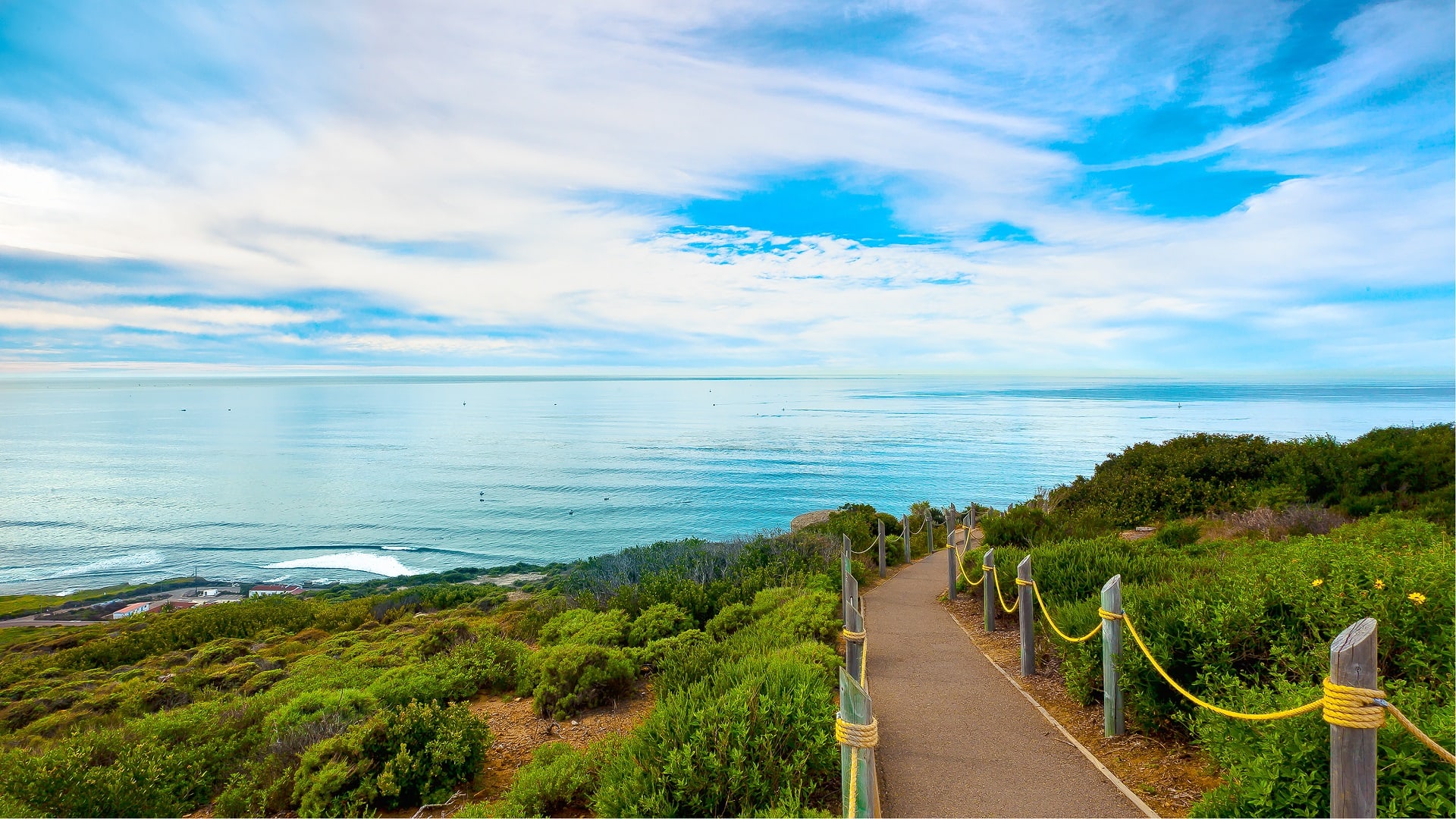 A seaside community within the city of San Diego, Point Loma is positioned on a hilly peninsula with wonderful views of the Pacific Ocean on the West, the Coronado Islands (of Mexico) to the South, and the San Diego Bay and Downtown on the East. The panorama from the hills is breathtaking and the temperate Mediterranean weather encourages a multitude of plants and animals to thrive.
Point Loma was the 1542 landing site of the first European expedition in what is now California. It continues its notable history hosting two major military bases, a national cemetery, Cabrillo National Monument and a university.
There are approximately 21,000 citizens of Point Loma residing in primarily single family homes. Neighborhoods within Point Loma include: Point Loma Village, the retail center of the area, with its hundreds of purple-blue flowering jacaranda trees; Shelter Island on San Diego Bay, housing hotels, marinas, restaurants, shops and public parks; Sunset Cliffs, named for the sheer sandstone cliffs that overlook the Pacific Ocean; and La Playa, a Bayside residential area which was once the port for San Diego's original settlers in the late 1700's. La Playa boasts some of the most exclusive homes in San Diego with private piers stretching into the Bay and gorgeous views of the city. The hills of Point Loma encompass additional neighborhoods with outstanding ocean, bay and canyon views, lush wooded lots and a variety of housing types.
Point Loma is home to three yacht clubs in the Shelter Island and Harbor Island yacht basins, including the San Diego Yacht Club which hosted the America's Cup from 1988-1995.
The southern one-third of the Point Loma peninsula is federal land, containing the Naval Base-Point Loma, Fort Rosecrans National Cemetery and Cabrillo National Monument.
The area's best known landmark is the Old Point Loma Lighthouse, located at the southernmost point of the peninsula. Built in 1854, the lighthouse is part of the 160-acre Cabrillo National Monument.
Out beyond the boundaries of the monument's Pacific waters lies the Point Loma Kelp Forest where sea urchin and abalone search for food and where large fish and ocean mammals hunt them for food. Sport fishing boats, docking at the marinas in the San Diego Bay, take visitors out to the Kelp Forest to catch Bass, Dorado, Barracuda, Mackerel, Halibut and yellow-fin tuna.
History, beauty, sporting activities for young and old; elegant properties that go right to the water's edge on the bay side and command dramatic views on the ocean side -- Point Loma is a very special place.